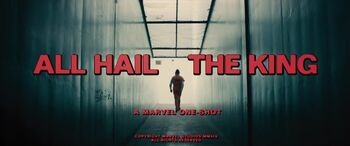 All Hail The King is a special short film by Marvel Studios, featuring the infamous and renowned character, The Mandarin. The film has British actor Ben Kingsley reprise his role as Trevor Slattery, who is now in a heavily guarded prison and is about to be interviewed to understand how he became to be as he is at present.
Plot
This section is under development. Information will be placed here soon.
Appearances
Characters
Cast
Ben Kingsley as Trevor Slattery / The Mandarin
Scoot McNairy as Jackson Norriss
Sam Rockwell as Justin Hammer
Notes
There are no current notes available on this topic, as of the moment.
Trivia
There are no current trivia available on this topic, as of the moment.
Gallery
References
There are no References to display.
External Links
Community content is available under
CC-BY-SA
unless otherwise noted.