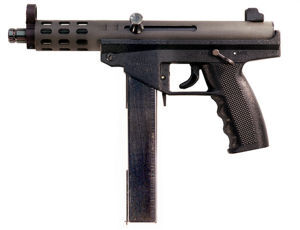 A Kimel AP-9 is a firearm, that was seen in the movie, Iron Man 2. It is one of the weapons that Justin Hammer displays for James Rhodes as part of his weapons demonstration, to equip the Mark II with weapons and turn it into a War Machine.
The weapon was manufactured and distributed by Hammer Industries.
History
Notes
There are no current notes available on this topic.
Trivia
There are no current trivia available on this topic.
Gallery
References
There are no References to display.
External Links
There are no External Links to display.
---
Community content is available under
CC-BY-SA
unless otherwise noted.