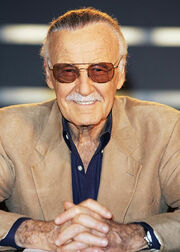 Stanley Martin Lieber (born December 28, 1922), better known as Stan Lee, is an American comic book writer, publisher, editor, media producer, actor, television host, voice artist, and former chairman of Marvel Comics. He is the co-creator of Iron Man, the Fantastic Four, the Hulk, Captain America, Black Widow, Thor, Spider-Man, and other Marvel characters.
Biography
Edit
Lee changed his name from Stanley Martin Lieber to Stan Lee in May 1941.
He has made cameo appearances in The Amazing Spider-Man, The Avengers, Captain America: The First Avenger, Thor, Iron Man, The Incredible Hulk, Iron Man 2, Fantastic Four, Spider-Man, X-Men: The Last Stand, Fantastic Four: Rise of the Silver Surfer, Spider-Man 2, Spider-Man 3, and Daredevil.
Lee has received several awards for his work, including being inducted into the comic book industry's The Will Eisner Award Hall of Fame in 1994 and the Jack Kirby Hall of Fame in 1995.
On November 17, 2008, Lee was awarded the National Medal of Arts. On October 2, 2009, the County of Los Angeles and the City of Long Beach announced Stan Lee Day. Lee won the Comic-Con Icon Award 2009 at Scream Awards. On January 4, 2011, he received the 2,428th star on the Hollywood Walk of Fame. On January 21, 2012, Lee received the Vanguard Award from the Producers Guild of America.
He has appeared in almost every film or television show by Marvel in cameos
There are no current trivia available on this topic, as of the moment.
References
Edit
There are no References to display.
External links
Edit
There are no External links to display.
---