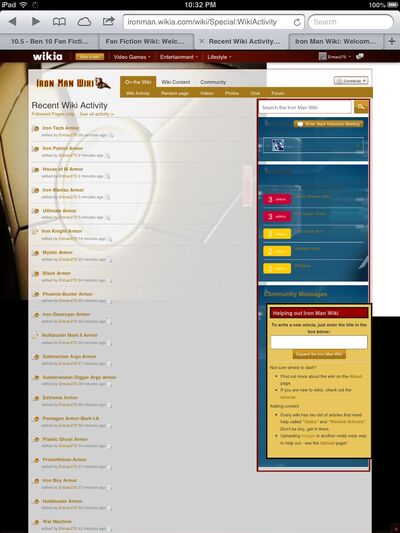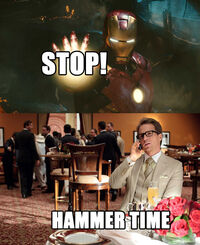 Hello. I am Ermac270.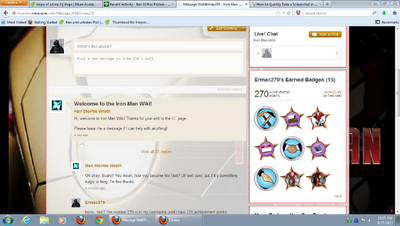 I am an Stark Industries Secretary and Stark Industries Head of Security. In simple terms, I am a moderator and a rollback. I do various projects for the benefit of the community of Iron Man Wiki.

My Asking The Community! Blogs began on June 27th 2013 and ended on July 25th 2013.
I am known for taking screenshots.
Current Total Achievement Points: 1,750.
My former signature: I'm a noob
Explaining my former signature: The reason my signature is I'm a noob is because it is random. The former signature was for comedic purposes, proven to be true.
Important Dates on
Iron Man Wiki
June 26th 2013~ The day I joined Iron Man Wiki.
02:43 June 26th 2013~ The time and day I had my first edit. The first edit was: Thread:7211.
July 3rd 2013~ A week on Iron Man Wiki.
06:39, July 6, 2013~ Maximus Loo2012 changed my group membership for User:Ermac270 from Stark Industries Secretary.
01:25 July 24 ,2013- 1,000 edits.
July 26th 2013~ A month on Iron Man Wiki.
13:54, July 28, 2013 ~ My 1,138th edit. The signifance of my 1,138 edit is 1138 is a common numerical value that appears in films, television series, video games, books, and comic books, along with 327. The page was Samuel L. Jackson.
12:09 August 10th 2013- Made the lucky 11,000th edit on Iron Man Wiki.