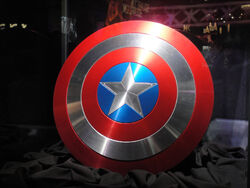 The Vibranium Shield, also known famously as Captain America's Shield, was a shield that was created by the famous Howard Stark. The shield was made out of vibranium, the rarest metal on Earth. It appears in the film,  Captain America: The First Avenger.
History
This was seen in IM2 when tony is trying to find vibrainum Coulson gives the prototype shield to Tony to help him balance the tubes
Notes
There are no current notes available on this topic.
Trivia
There are no current trivia available on this topic.
Gallery
References
There are no References to display.
External Links
There are no External Links to display.
---
Community content is available under
CC-BY-SA
unless otherwise noted.